First Time Home Buyer Program - the Details
First-Time Home Buyer Incentive Program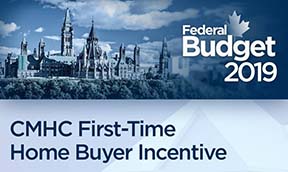 Here are the details!
What is the maximum incentive?
5%-10% of the purchase price for new construction and 5% of the purchase price for resale properties
How much income do I need to qualify?
The maximum income to qualify for the program is $120,000 per year
How do I figure out how much I qualify for?
your income x 4 + mortgage + incentive = qualifying amount
Here's a handy link to the calculator: Incentive calculator
What is the maximum purchase price?
You may qualify for a property up to the maximum price of $550,000
It is a combination of the mortgage amount plus the incentive amount you qualify for plus your savings
Here's a quick calculator for the maximum purchase price: Maximum purchase price
Your savings can include withdrawals from your RRSP to pay for your first home purchase under the First Time Buyers Home Buyer Plan.
Your savings "contribution" can also be a "gift" from parents. Parents are allowed to gift their kids up to a maximum 20% of the total amount of the purchase price.
Who is eligible for this program?
First time homebuyers who have never purchased a home before and are buying the home as their principal residence and not as a rental property.
People that have not owned a property in the last 4 years.
People who have experienced a recent marriage or common law breakdown may qualify right away.
How do I get started?
You need to apply for a high ratio mortgage. The application will be submitted to CMHC. After approval of the application, you have 6 months to find a new home.
Does the incentive have to be repaid?
It needs to be repaid when you sell your home or after 25 years. The amount that needs to be repaid will be the original amount of the incentive plus an equivalent share of the property appreciation based on the current fair market value of your home when you sell it or it's value after 25 years.
Full Details Here: First-Time Home Buyer Incentive Program
Feel free to contact me for more information.
Often I will say that I have the best job in the world and I get to do it in the most beautiful city in the world. Vancouver is home for me and there is no other city I would rather live and work in.....
Latest Blog Posts
Increased demand for more living space combined with an undersupplied market is producing significant upward pressure on single-family.
First-Time Home Buyer Incentive ProgramHere are the details!What is the maximum incentive?5%-10% of the purchase price for new construction and 5% of the purchase price for resale propertiesHow much